Why Aren't My Outdoor Lights Turning On?
By

Lon Lockwood

|
It's a major frustration when you flip your light switch to find out your lights won't turn on. Several issues could cause your outdoor lights to not work properly. Most aren't weather-related and are a simple fix you can tackle on your own.
If you need an expert electrical company in the Webster, NY, area, contact Lon Lockwood Electric online or call (585) 766-4702.
Common Reasons Your Outdoor Lights Aren't Turning On
Several problems can cause faulty outdoor lights. Most of the issues have simple fixes without needing to call a professional; however, if you attempt the following fixes and your outdoor lights still won't turn on, avoid additional safety risks and call a professional electrical company.
Damage to the Fixture
Inspect the light fixture for physical damage, remove debris, and check wire connections and screws to ensure all are properly intact. Use caution when inspecting the fixture, staying away from the hot part of the equipment.
The Lightbulb Is Burnt Out
Check the lightbulb to ensure it's securely fastened, and the wire filament is intact. Ensure your fixture has the correct size, type, and wattage lightbulb. While the wattage and size depend on your fixture, the type of lightbulb for outdoor lighting should be halogen or LED.
Tripped Circuit Breaker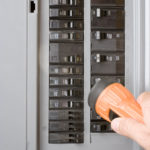 Head over to your circuit box and check the circuits. If there are any flipped circuits, that could be a reason the outdoor lights aren't working. You could have a blown breaker or fuse if you don't see any flipped. With circuit issues, you should contact an electrician immediately to ensure proper safety measures are taken.
Tripped Ground Fault Circuit Interrupter
When rain or storms happen, water can leak into your outlets and trip your breakers. As a safety precaution, the power in your home will shut off. The best way to ensure your outdoor outlets don't get flooded is to install waterproof covers over the outlets.
Our team can handle your outdoor electrical installations and repairs. Call (585) 766-4702 or contact us online today.
Top-Rated Electricians in Webster, NY
Our team at Lon Lockwood Electric is trained to handle various residential electrical services. Our A+ rating with the Better Business Bureau, combined with background-checked technicians and quality customer care, guarantees your satisfaction.
Contact us online or call (585) 766-4702 to schedule residential electrical services in Webster, NY, or surrounding areas.